Shinto's Pet Food Opening Its First Consultation Center in Mill Valley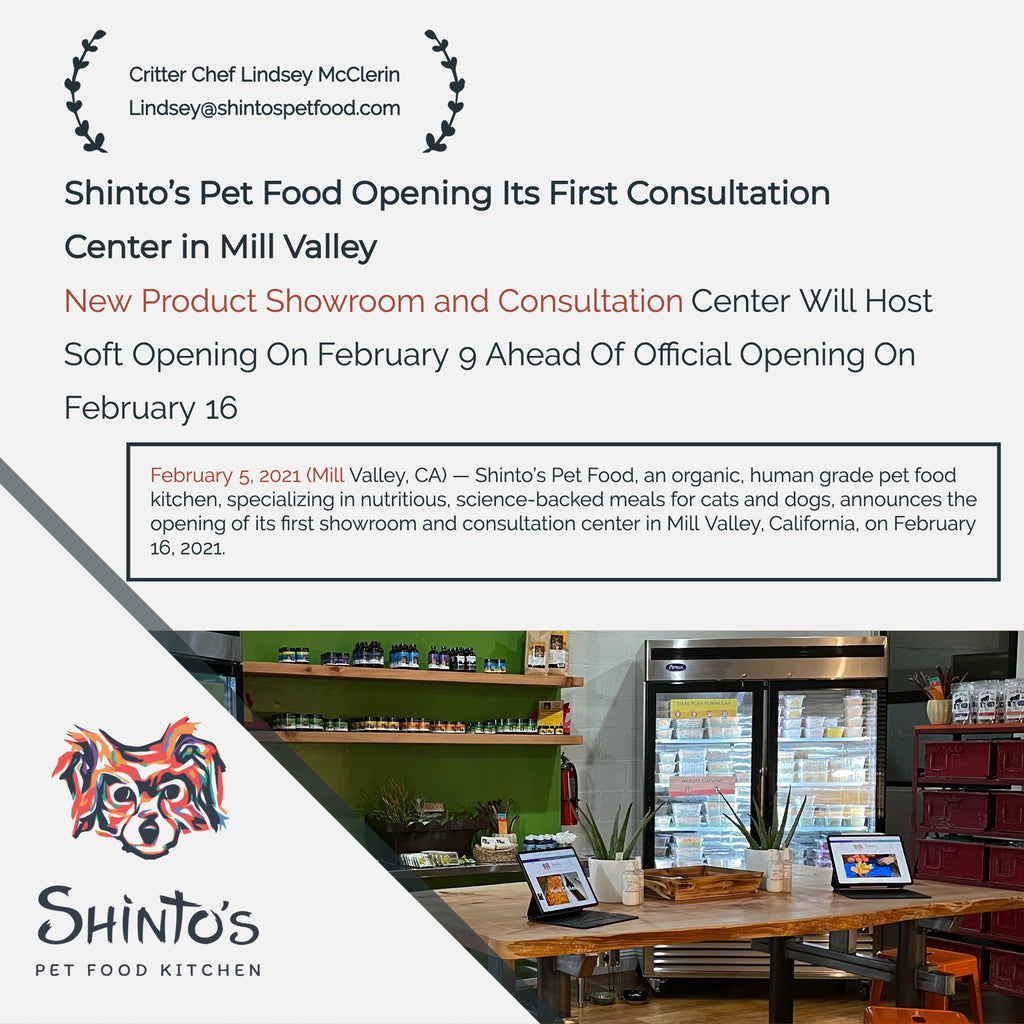 New Product Showroom and Consultation Center Will Host Soft Opening On February 9 Ahead Of Official Opening On February 16
February 5, 2021 (Mill Valley, CA) — Shinto's Pet Food, an organic, human grade pet food kitchen, specializing in nutritious, science-backed meals for cats and dogs, announces the opening of its first showroom and consultation center in Mill Valley, California, on February 16, 2021.
After a decade of serving local pet owners at the Marin Civic Center Farmers Market, Shinto's Pet Food Consultation Center will provide a much-needed resource for pet owners seeking a more educated and efficient approach to their pet's nutrition.
"We are excited that our Mill Valley location will allow us to host Shinto's full product line and consult with pet owners on how to improve the health and longevity of their beloved animals," said Lindsey McClerin, Critter Chef, Owner, Founder, and Formulator of Shinto's Pet Food.
 "What's unique about our consultation center, is that we are not a traditional retail store. Instead, we plan to serve our customers with a showroom for them to view Shinto's products, ask questions, and discover natural ways to guard and protect the health of their pets. Once a meal plan has been decided on, our customers can place their order from the convenience of their phone or computer or take part in our monthly subscription delivery service."
 In addition to personal in store consultations, Shinto's will also offer customers zoom meetings with Critter Chef Lindsey McClerin and associates to discuss nutritional meal planning.
 Shinto's Pet Food specializes in crafting nutritious meal plans, supplements, tinctures and detoxes for cats and dogs with allergies, ailments, or those in need of a pH-balanced diet, all made exclusively at the Shinto's Pet Food Kitchen located in Grass Valley, California.
 Shinto's Pet Food Consultation Center is located at 90 E. Blithedale, Mill Valley, Ca 94941. Local pet owners are invited to attend the center's soft opening on Tuesday, February 9, 2021, from 9 am to 2 pm, (please wear a mask and practice safe distancing) ahead of its official opening the following week on February, 16.
For more information about Shinto's Pet Food and to order online, visit https://www.shintospetfood.com.
Critter Chef Lindsey McClerin